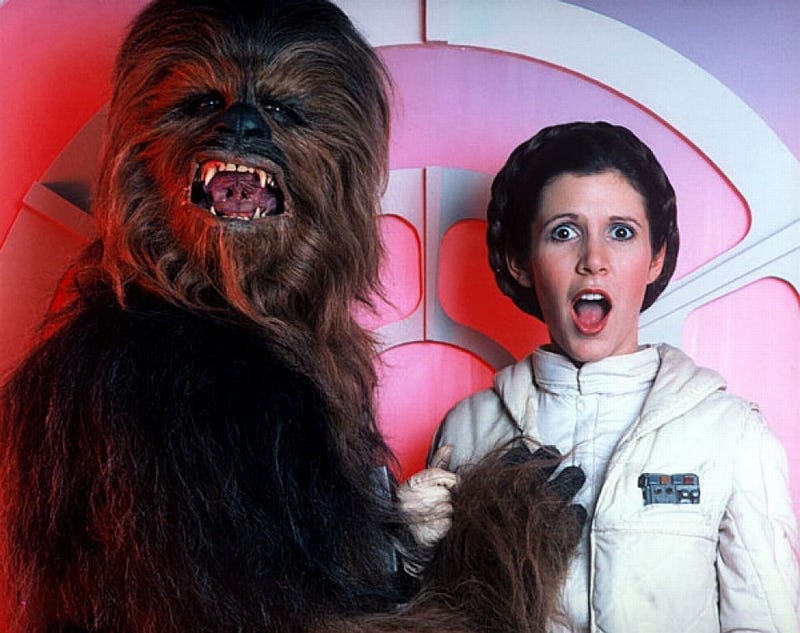 We all know Peter Mayhew, even if we don't realize it: He played Chewbacca, the lovable Wookiee in the original Star Wars trilogy. And judging from his Twitter feed in the past week, he's more of a fanboy than we realized: He badly wanted to form a sexy rebel alliance with Princess Leia.
Starting last Wednesday, Mayhew took to tweeting a trove of candid shots he'd collected from Star Wars sets while shooting the three movies. They are manna for anyone of a certain age, raised on landspeeders and lightsabers and the Kessel run. Mayhew's wit is on display in full form. But so is his possibly unhealthy preoccupation with a twentysomething Carrie Fisher:
Dude, that is so awesome! You were one lucky guy.
Heh, yeah. Every little boy thought that outfit was pretty nifty!
Ha ha ha ha ummmm. Hang on a sec.
Wait, I have a question.
Like, how many do you have, exactly?
Hmm-hmm. Cute pic. Let's not make it creepy, though.
Pretty sure you're joking. Joking, right? Right?
:-t
No, no, no. Dude.
Did you— did you watch her— while she slept??
Um that's actually a good question. Have you asked a profes—
Is that even Carrie Fisher?
Don't get me wrong, Peter. She was a comely young woman. But... who started the snowball fights, exactly?
Damn you, Peter. I mean, you're right. But come on. I feel... not cool about this.
What— is that—- ungh. Yeah, we're pretty much done here. Joss Whedon reboot, anyone?