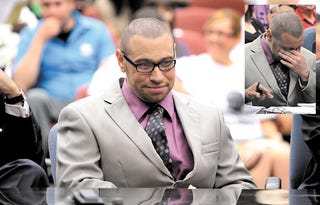 Daniel Villegas was 16 years old when he confessed to the 1993 drive-by shooting murders of two teens in El Paso. In 1995, he was sentenced to life in prison. Now, he's about to go free.
Today, Villegas has a bond hearing, at which he's expected to be set free, since his case was vacated last month. How did he end up spending 20 years in prison for a crime that he did not commit? The LA Times details some of the problems with the case:
Villegas' conviction was based almost entirely on his one-page, dictated confession, which did not match the facts of the case in numerous ways. For example, Villegas claimed that he was riding that night in a car driven by a man who was in prison at the time. Villegas said the car was white; it was red...

Villegas, then 16, recanted his confession quickly, and reported that he had been badgered into delivering it — told that he would be raped in prison if he did not confess, that he would receive the death penalty and that the police would carry it out personally. The confession stood, however.
More facts about Villegas' case can be found on this website dedicated to his exoneration.
Daniel Villegas was a poor and boastful teenager whose only real mistake was bragging about something he didn't do. The fact that it took 20 years to get him out of jail indicates that perhaps the American justice system has not yet attained perfection. Or even decent working order.
[Pic via FB]