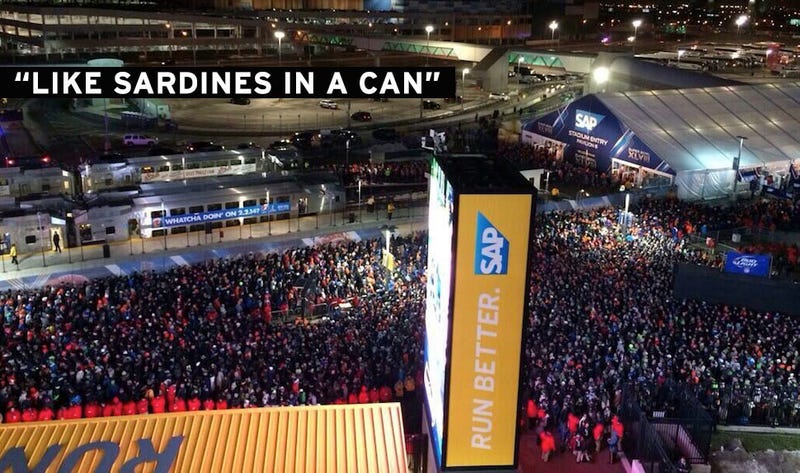 The Super Bowl was a disaster. The game was shitty, the ads sucked, and the halftime show was a let down compared to last year's. All of that was to be expected, though; more surprising (or maybe not, considering the New Jersey governor's recent history) was the awful transportation to and from the "'Mass-Transit Super Bowl," as organizers deemed it before the game.
Despite extremely limited (and expensive) parking options, the NFL and the NJ Transit only expected between 12,000 and 15,000 fans to take the train from Secaucus to the Meadowlands. They were, of course, wrong.
A few hours before games, officials changed their estimate to more than 27,000. But by that time, though, it was too late. Commuters on the way to the game described the transit as "worse than a sauna" and "an epic fail."
"It's as if they didn't expect us, that there would be thousand people. It's been on the news for two days saying take the train," fan Nina Pralour told the Star-Ledger. "And we literally stood in a hallway for about an hour and fifteen minutes, like cattle."
Another fan, whose transport to the Super Bowl from Manhattan took more than two hours and fifteen minutes, said commuters were packed like "sardines in a can."
Things weren't much better after the game, where thousands of fans were stranded for hours. By 11:20 p.m., 90 minutes after the game's end, only 13,000 people had boarded trains from the stadium, leaving more than 14,000 waiting. Things were so bad that stadium officials asked fans to stay inside the stadium.
By 12:45 a.m. nearly everyone had left the stadium. Not that some Seahawks fans minded the delay. "Being Super Bowl champs, you can put up with a lot," one such fan told the New York Times after the transit nightmare.