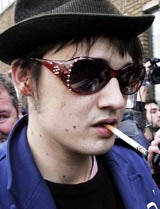 While New York frets about its safety in light of decreasing terror funds, there's trouble in Barcelona at this very moment:
Pete Doherty, singer with the band Babyshambles, has been detained aboard a flight to Barcelona after a syringe was found in the aeroplane toilet.

An airline spokesman said the captain of the easyJet flight from Gatwick radioed ahead to ask police to meet the flight at Barcelona's El Prat airport.

Police are currently searching the plane as it sits on the runway with 142 passengers aboard, according to the easyJet spokesman.
Good to see Europe is still fighting the war on terror, one suicide junky at a time.
Doherty Held After Syringe Found on easyJet Flight [Telegraph]