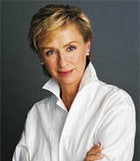 Sad news from across the pond today: Our Lady Tina Brown has decided that New York is no longer the center of her buzzy universe, as she believes London has eclipsed our city in all matters of coolness. Though she will soon become a U.S. citizen, Brown noted that London was "more global" than New York, which has lost some of its "mojo" since 9/11 and Bush's re-election. (No, that wasn't a typo — she really used the word mojo. No word on whether or not New York is still a bit groovy.)
On the superiority of London, Brown explains:
It's [London's] nightlife, its demographic. It's an adventurous, talented town. New York has become more of a middle-aged town. London has become affluent in many ways. New York has become about money. In London you can be cool without having money.
So says the 53-year-old woman whose recent New York activity has revolved around protecting the garden wall of her three-story co-op.
New York's Queen Lauds London as Capital of Cool [Observer UK]