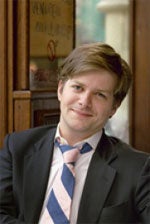 Remember Dana Vachon? The blogger who parlayed a bunch of posts about lust and drinking into a book deal which immediately made him the envy of those of us who are still writing on spec for Manhattan Resident? Well, it turns out that rather than spend the summer masturbating (or just masturbating), he finished his first novel. What's it about?
Mergers & Acquisitions is the story of Tommy Quinn, a recent Georgetown grad who has just landed the job of his dreams as an investment banker at J. S. Spenser, and the perfect girl, Frances Sloan, the daughter of one of New York's oldest moneyed families. As he travels from the most exclusive ball rooms of the Racquet and Tennis Club to the stuffiest boardrooms of J. S. Spenser, from the golf links of Piping Rock to the bedrooms of Park Avenue, and from the debauched yacht of a Mexican billionaire to the Ritalin-strewn prep-school dorm room of his younger brother, he finds that the job and the girl are not what they once seemed.
Good Lord, doesn't anyone write fiction anymore? Congratulations, Dana. Here come the knives! Earlier: Colon-Busting Blogger Book Deals