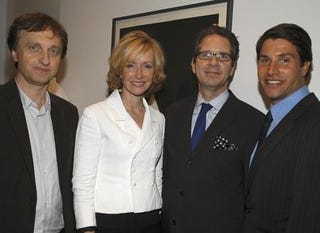 LTB Media honcho James Truman, his billionairess boss Louise MacBain, Culture + Travel EIC Michael Boodro, and LTB marketing mandarin Lawrence Kaplan.
In this very special prose edition of Team Party Crash, we hand the monologue over to Gridskipper editor Joshua David Stein. He'll walk you through the joys of last night's launch of Culture + Travel magazine, another controlled-circulation periodical for old rich folk from LTB Media. Josh was too embarrassed to bring his monocle (or his camera), so he had trouble fitting in amongst the wealthy elite. Nevertheless, those with money and those who loved money flocked to LTB Media owner Louise MacBain's penthouse for a lovely spread of hors d'ouvres and energetic media glad-handing. Our man's account begins below.
Culture + Travel launched onto the battlefield of increasing obsolescence last night. Never one to say no to foie gras canapes and the chance to discreetly brush up against Malcolm Gladwell's voluminous hair (his girlfriendo has even adopted the trademark 'fro), we tagged along with He From Whose Loins We Sprungeth, Nick Denton. Fulsome and photo-free micro report after the jump.
The party was held on the 16th floor of the glass-and-problem Richard Meier building on Charles Street. Perhaps the cruelest yet most telling moment came as we were walking into the lobby. In front of us, three elderly socialites were making their geriatric way inside when one of them stumbled and sprawled over an unseen step. We youthful bloggers artfully dodged past them and into the building.
After a bit of reconnoitering, we landed on the outside balcony pouring Chandon and talking to the Golem-esque James Truman, LTB's CEO and managing editor. It was his big night, so we felt bad informing him that print media is dead. PR Athena Nadine Johnson meanwhile resembles a Nico that lived longer and smoked more. Johnson looked over the edge of the tower, pointed to Calvin Klein's home (as yet uninhabited), then told me about the NBC series Heroes for a very long time.
Charlie Rose showed up because, let's face it, what else does he have going on in his life right now? Gladwell showed up giddy and left early, some svelte gamine on his arm, and I talked to Jaime Johnson of Born Rich about our classes together at NYU (on women in the Renaissance). Anthony Haden-Guest stopped by and was quite upset about the eBay's lack of accountability. Catherine Maladrino was there, and I barely suppressed the urge to thank her for sending Angela home and telling Kayne he looked ridiculous. By far the best moment was talking to the New York Daily News' Ben Widdicombe about polari — 1950s British gay slang — a subject Mr. Widdicombe knows well.