 Digg is by any measure, an extremely successful news site. The audience, many of whom also submit and vote upon stories, has expanded more than five-fold in a year, according to Comscore. Kevin Rose, the founder, is charmingly unassuming. The company is, or was, a sought-after property for acquisitive media conglomerates such as News Corporation. Which makes it all the more bizarre that the news site's CEO would rehash inflated statistics. For why the numbers are wrong: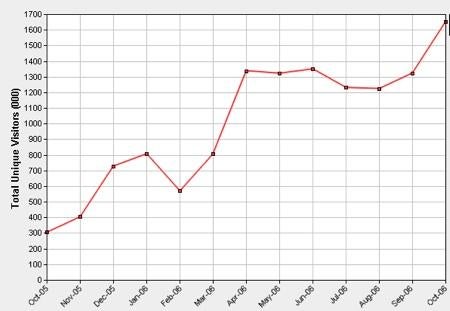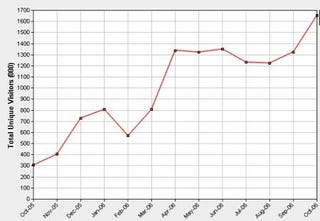 Jay Adelson, CEO of Digg, told Forbes that Digg attracted 1.5m visitors a day, and let stand the tech news site's earlier estimate of 20m uniques per month. That's a gigantic overstatement, for three main reasons.
1. Comscore, the audience measurement service that most advertisers rely upon, estimates Digg's audience at 1.65m people, not for one day, but for the whole of October. Comscore counts US visitors, but, if even half Digg's audience was overseas, the linkdump's numbers are out by a factor of seven.
2. Adelson includes, according to the interview with Forbes, RSS hits. These syndicated feeds are downloaded automatically by news reader applications, and counted by internal stats tools, but often remain unread. Or, if they are read, a user will often click through on the link, which takes one through to Digg's website. The internal stats would doublecount those visitors.
3. The Digg CEO, explaining why the Comscore numbers were under-reporting Digg's reach, told Forbes: Well, yeah, 70% of our users use Firefox, which can't even install the tools that most of the independent recordings are based on, so that will definitely impact the score. On this, Adelson is just plain wrong. It is Alexa that undercounts Firefox users, although it's generous to geeky sites such as Digg, in other ways. But Forbes was referring to Comscore, which judges internet usage from a panel of over 60,000 internet users, and says it does include Firefox users in that panel.
Comscore's measurement can be erratic, particularly for sites smaller than Digg. It is conceivable that Comscore's panel may under-represent the geeky audiences that have made Digg so popular, so quickly. But, even accounting for the international audience, and all these other factors, it is hard to see Digg at more than a quarter of its claimed audience reach.
Digg may well one day, quite soon if its current rate of growth could be sustained, attract an audience of 20m. For the moment, it is a statistical delusion.
Digging into Digg [Jay Adelson interview with Forbes.com]
Flaky? [Fred Wilson defends Comscore]
Panel versus web log measurement [Comscore]
Disclosure: Gawker Media is competitive, in business model at least, with Federated Media Publishing, which sells Digg advertising. One could, I guess, see Digg as competitive with Gawker tech sites such as Gizmodo, Lifehacker and Valleywag. Except that Digg is one of the largest external referrers of visitors to those sites.