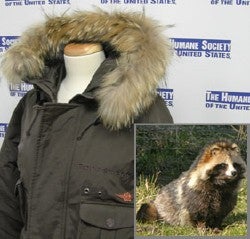 It's not just Diddy who is responsible for doggy death: according to the Humane Society and TMZ, Hova is also guilty of using the fur of Chinese raccoon dogs to trim jackets. The Rocawear coat, like the Sean John coat that was pulled from Macy's shelves in November, is labeled as "faux" fur. We suppose Jigga should have probably listened to his own advice when it comes to Chinese bitches: they do keep bootleggin your shit. (Hey, the "and a bitch IS one" joke was taken, okay?)
Jay-Z's Hundredth Problem [Humane Society]
Jay-Z Accused of Faux Fur Fraud [TMZ]
Earlier: Did Puffy Kill Fluffy?