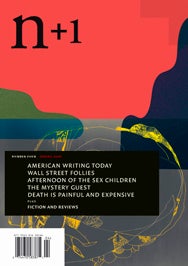 So? Did you go to n+1 HQ last week and help unload the truck with OMG OMG THE BRAND NEW ISSUE? NO? Seriously, what is wrong with you people?
Well, fortunately, you have another chance to score a free copy of Issue 5—or at least score, we're assuming—at Friend of n+1/Harper's editor Christian Lorentzen's Un-Valentine's Day party, whose invitation was so compelling in its n+1-ness that we felt compelled to reproduce it for you, in its entirety, after the jump.
Subject: PARTY SATURDAY: BRING ME THE HEAD OF VALENTINUS

Dear old friends,
This Saturday night, we, Lorentzen & Spinks, announce and invite (you to) a party:
PARTY
SATURDAY, FEBRUARY 10
[REDACTED, BUT YOU CAN PROBABLY FIGURE IT OUT]
PARK SLOPE BROOKLYN
ONE BLOCK FROM THE SEVENTH AVE F STOP
INFO: [REDACTED]
9 PM ON
XIAN: It is well known that a human heart weighs about four pounds, but how much does a broken heart weigh? Only one man has ever known that secret—St. Rudolph Valentinus, an intrepid fundamentalist
Christian of the third century. These were the days when Rome had fallen under the sway descendants of the hot-blooded Thraco-Illyrian conscripts upon whose brutality its boundless empire had been forged.
Valentinus was decapitated in the year 280 by his friend and confidante Emperor Valentinian II of Rome, whose wife Valentino had attempted to seduce, in the manner of any good Xian, relying somewhat
on her confusion of the two men's names. It is in memory of this martyr, his executioner, and the bemused empress who came between them that modern couples this time of year make dinner reservations and enact the ars amatoria upon each other then walk the dog, whilst untethered hearts seek out soulful and learned companionship for the same purpose but without the reservations and sans the mutts.
SPINKS: Therefore it is ours to celebrate this, and the return of our own wayward, hot-blooded Thraco-Illyrian son, two years exiled in the barren tundra of Williamsburg. Let smokeless decay be reignited to familiar blazing! Upturn the magnums! Let the waters be fortified to quench the black thirst of the coming spring. Spring, on whose wind is whispered the name: "Lorentzen."
Bring booze, strangers, and all those whose email we've forgotten. Xian & Brian
Seriously, if you can't get laid at this party, you don't even deserve your free copy. "Intellectual Scene," my ass.
n+1 [nplusonemag.com]
Earlier: The New n+1! It's Coming! OMG! Can't ... Breathe ...