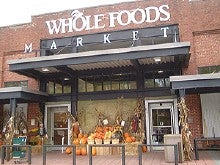 Breaking! Fear not, downtown organic food lovers! The long-awaited, and long-delayed, Whole Foods at Bowery and Houston will open on March 29 at 8 a.m. If only Joey Ramone were still alive to see this!
There is excitement, according to the press release.
We are truly excited about opening our Bowery location. There will not be just one or two unique features within this store - but dozens! The next generation of food retail will be right here in New York City!" said Christina Minardi, president of Whole Foods Market's Northeast Region.

The new Bowery Houston location will feature the company's first-ever Fromagerie, featuring exclusive aged cheeses from Herve Mons; multiple sit-down dining venues and a large caf accommodating more than 299 people; and a culinary center where New Yorkers can learn cooking skills from Whole Foods Market chefs and other top-rated chefs from around the city.
That sounds like the perfect place to meet a
quality man
, doesn't it?