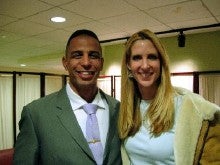 Matt Sanchez, a 36-year-old Columbia student and Marine Corps reservist, has been appearing on all sorts of conservative talk shows like the O'Reilly Factor and Hannity & Colmes, whining about being mocked for military service by those lefties up at Columbia. And then Sanchez was feted at the CPAC conference— the one where Ann Coulter made her "faggot" remark. That must have been a weird experience, since all the gays have now fingered him as a former gay porn star. (Well, we told you Ann was a huge fag hag!)
We're bad with face-matching; we've looked at the pictures (dirty!) and it looks like him, but we leave the confirming actual positive ID to the professional gays.
As blogger Joe. My. God claims:
Sanchez has had a lengthy career in gay porn, working under the names Rod Majors (NSFW) and Pierre LaBranche, starring in such art films as Jawbreaker, Donkey Dick, and Glory Holes Of Fame 3, where his "11-inch uncut monster cock" earned him a devoted following. In an old interview, "Rod" comments that his friends call him "Matteo" and that he is from San Jose, CA, as is Matt Sanchez.

Now, porn stars are entitled to enter the miliary, although Sanchez obviously had to do it on the downlow. Porn stars are entitled to have a right-wing ideology, even though the very people he supports would love to see gay porn stars strung up by the nuts. (Wait, have I seen that movie?) But, Oh.The.Irony. of Sanchez appearing with Bill O'Reilly who only a couple of days went apoplectic over San Francisco's "Colt Studio Day."
Jeff Gannon Redux [Joe. My. God]