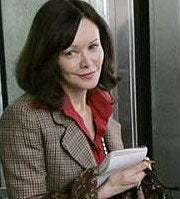 Lady Black flips out on Canuck media outside hubbie Conrad's court date, calls producer a slut, claims "I used to be a journalist!" Oh my God, when? [CP]

Tribune sends out another publisher to the provinces; will the new Baltimore Sun publisher go native and turn on the Chicago Fatherland? Question! Do they just keep a stockpile of VP suits, each ready to be dispatched to the front lines? Is it a clone army? And if so, is it Tribune HQ that's spending too much money on staff, rather than the papers? [Sun]
Ricky Gervais kills "Extras." Why, you crazy-faced bastard, why? Why you wanna hurt us? [HR]

Speaking of TV comedy, syndication viewership for comedies is up, while network sitcom viewership is down. Surely this is somehow YouTube's fault. [WP]

Morton-Groves Newspaper Newsletter says "Good luck on your own, ya ungrateful bastards!" [Newsosaur]

Bloggers strain necks, gaze deeply into own butts, trying to decide who and what is "A-list." [BH]

Laurel Touby finds a way for her Mediabistro to service publicists more directly. [MB]

Kurt Eichenwald still hasn't sued anyone, including Debbie Nathan. Just FYI!