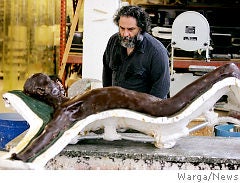 Oh, sweet Jesus, we barely knew Thee:
In response to the public outcry over the life-sized 6-foot chocolate Jesus, naked and hanging on a cross, during the Catholic Lent week leading up to Easter, the Roger Smith Hotel has decided to cancel the exhibit.
While we're saddened by the loss of Chocolate Jesus, we are people of faith. We'll check back at the hotel three days from now.
Nude Chocolate Jesus Exhibit Cancelled, Hotel "Affirms Dignity" [Post Chronicle]
Earlier: Rewriting The 'Daily News': Chocolate Jesus
[Image: NYDN]