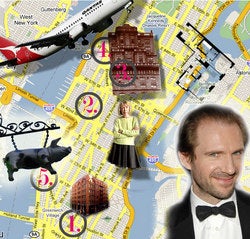 1. On Saturday, circa 2:00 p.m., he had a late lunch at The Mercer Kitchen alone with a young woman.
2. On Saturday evening, in the company of Liam Neeson and Natasha Richardson and the soon-to-be omnipresent unknown lady, took in "The Year of Magical Thinking." Removed hand from her thigh when he handed her a handkerchief to wipe away her tears.
3. On Sunday at 3 p.m., with a clipboard in one hand and a blonde lady in the other, entered 110 Central Park South with the additional escort of a real estate agent.
4. Last night, Monday, at 8 p.m., he dined with a/the younger woman at Cafe Luxembourg; dressed in a gray suit and blue shirt.
5. Then on Monday night, from 10:15 until after midnight, he went for drinks at The Spotted Pig with Edward Norton and a small crew of others, including the/a lady, who was reported by observers as, yes, being amenable to frequent touching.