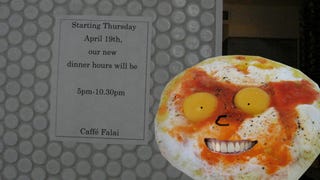 P*ONG, Pichet Ong's new spot and FR*OG's brother in asterisk, flooded on Sunday and won't open until the 20th. Ah, le deluge

That vortex of restaurant ventures known as 245-247 Houston (corner of Norfolk) is about to get another tenant. Last night, the shuttered space that once housed Canapa boasted a sign informing residents of an application for a beer and wine license. The petitioner? The Remedy Diner.

UES Taco Taco slated to open in LES on 205 Allen St. CB3 provisionally denies liquor license application.

This guy is the biggest douche in all of NY chefdom. Guaranteed.
LA Weekly Food Critic Jonathan Gold wins a Pulitzer. Bruni weeps hot tears into Esca's pasta.