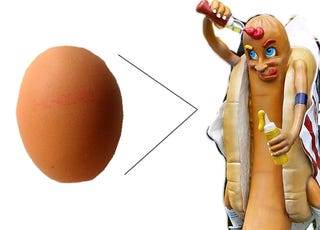 Got any info on the goings on of New York's restaurant scene? Snapshots, tips and limericks to tips@gawker.com. Discretion is assured. In/Out Call
A tipster reports the Williamsburg brunch spot Egg, that up until recently closed at the absurdly early hour of noon to make room for Sparky's hot dogs, has bought out that business and is planning on serving brunch later and perhaps even dinner.

You can eat anything anywhere at anytime in Staten Island. Friday at 8 for two? Not a problem. Ever.

As reported earlier, Boerum Hill's best dive bar, the Brooklyn Inn is indeed closing and soon too. Via a citizen journalist, "I was there on Saturday night. They were taking pictures of the regulars with a big old fashioned camera (v. Brooklyn). They're closing in a week and a half." As to whether a bistro will sprout where the dive once was, the owners say, "Nous ne savons pas"

Abbe Diaz, the William Jennings Bryan of foodie message board PXThis, has serious beef with Page Six's Corynne Steidler. Oh, and she's nuts. "asking a memoirist NOT to write about her experience is a wee bit akin to asking diego-rivera to white out his portrait of lenin on the RadioCity mural [and we all know what happened to that poor fuck] or asking the black-eyed-peas to take the word "retarded" out of their lyrics."