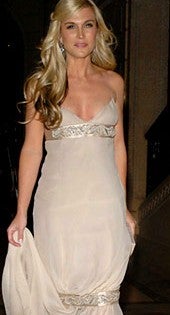 The bizarre art project that was bitchy internet slambook Socialite Rank is now suddenly shuttered forever, leaving us alone with only a scant handful of sad Lalibertian doppelganger sites like ParkAvenuePeerage to comfort us. There is some consolation, though! Socialite Rank has left us with one last Engrish (more likely Engrussian) missive to treasure forever. Let's try to figure out what they're meaning! For starters: "The meaning was to create a book that would definitively showcase the inner workings of New York's 10021 world."
Has anyone yet considered that maybe the mastermind behind this site is none other than ANTM's Natasha?
Anyway, the most exciting news contained in today's announcement is that SR was just a tool that some still-anonymous geniuses created in order to gather material for a book, to be titled Year of the Rank. Do you think they understand the multivalence of the word Rank? Us neither. Anyway, this project was no small undertaking. It involved the efforts of "three full-time writers, one designer and seven contributors (who until this day are unaware of the original conceivers' identity)."
All those people's hard work wasn't for naught, though: "We've received nearly 17,000 comments, 3,458 e-mails, dozens of offers (reality shows, cover stories, and talk show opportunities), few copycat websites and overwhelming amount of attention." Impressive, especially about all those emails. (Welcome to our weekend inbox. Go team.) Anyway, the "conceivers" expect Year of the Rank to be "in release" by February of 2008. Until then, we suppose we'll have to go back to reading New York Social Diary sometimes. —Emily
The Year of The Rank [SR]