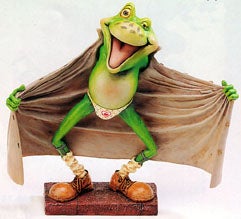 The other day, we learned that "flashing and groping have long been problems in New York." You don't say! Of the 556 arrests for public lewdness in 2006, there were 29 made on the subway as part of a sting operation called Operation Exposure. (Hee!) But perhaps cops should consider expanding it to the city's mid-range department stores.
A 16-year-old girl shopping in Macy's for a dress got a bit more than she bargained for in the dressing room:
The bizarre violence happened at 1:50 p.m. Sunday, when Ashley went with her boyfriend to buy a dress in the Junior Girls Department, the Manhattan District Attorney's Office said.

She said she was going to wear it at a birthday party for her boyfriend's mom, and also was considering it for her prom.

She took it into a dressing room on the fourth floor of the store.

Dennis Green, 60, was lurking in an adjacent dressing room, where allegedly he stripped off his clothes.

As Ashley began trying on the dress, Green stepped out and ripped open the door to her dressing room, authorities said.
Also, Green's dressing room "was filled with cigarette butts and trash" when he was arrested. So maybe Macy's really just needs a janitor.

Macy's Shopper Bags Naked Perv
[NYP]
Manhattan Plan for Tougher Lewdness Penalties
[NYT]
[Image via]