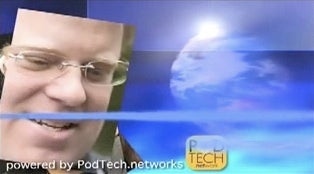 Podtech — the much-hyped podcasting network which routs Venrock money into the pockets of Robert Scoble — has one great defense against critics. None of them can execute a takedown, because none can bear to watch the shows for long enough to gather the evidence. None of them, except one, a scathing contributor, who provides an alternative rundown of Podtech's video programming.
This Week on Podtech
————————————————-

Roundtable interviews with dull tech execs, praising themselves (and
their friends) to death. Centers of their own universes.

Irina with a microphone and a 30-second attention span, event
partying, shotgun interviews, wheeee. Being seasick for a week: that
captures the experience.

Videobloggers interviewing OTHER videobloggers. What fun. Bloggers
interviewing other bloggers. Bloggers interviewing videobloggers.
Videobloggers interviewing bloggers. Tech party people interviewing
other tech party people. When no one left to interview, interview
others interviewing you. The incestuous fun never ends.

Corporate informericalish podcasts, professional radio voiced, but
content dead-dry. NPR does late-night cable TV, only droller.

Inside-baseball VC and tech daily-invisible-alphabet news-meme soup,
lofty predictions, and self-serving trend analysis.

What do you see, Jeremiah? I see social media web strategy and the
branch of an almond tree. Random people filmed badly talking to
themselves and their friends about social media.

Scoble: Web 2.0 and throwaway tech execs, and whatever happens to
fancy his pants, with yet another (and another) serving of
photowalking. Bad audio and belly laughs: no additional charge.

LunchMeet: Scoble Show, without Scoble, just hipster party people
eating tacos and being chummy about Web 2.0 rot.

Loren and Yue: Random total nonsense. Hasn't developed into anything
worthwhile.

Ryanne Hodson: Altogether too earnest and darned prickly, like, buy
them carbon offsets from Al Gore. Doom, Gloom, drama it all up. The
End is Near.

Jennifer Jones: Marketing talk talking about Marketing to other
Marketers who talk about what other Marketing types are talking about,
in regards to Marketing — the circle, circled and squared.

Lucy Gray: Ouch, that's seriously painful.

CalacanisCast: Whoa, even worse. He simply is 'not made for TV'.
egofested Slushie brain freeze. Narcissist Video Hour. This many shows
and still a Beta?

FurrierCast: Interviewing people, so they can give him money,
slamdance Jerseyite in-face Andrew Dice Clayistic. Festering
toothaches are less painful.

Bill Streeter: Smug hipster local bands on video. Wheee. Sometimes
there's a reason why 'talent' goes undiscovered.

National Blahnanaanannnananna: Richer than God Hollywood guy (not
putting up his own money) making daily short internet funnies, Podtech
as fall guy.

Matt Kelly with Car Tech: Okay, the lone bright spot, so how come they
don't even market it? Matt should be on real TV.