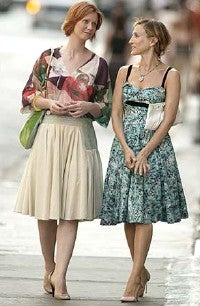 Julia Allison is brand-new on the job as Time Out's dating columnist, but being a maverick thinker, she's already working to disassemble the entire dating machine from within. She says ladies don't actually want you to take them out for fancy dinners! No, your date would prefer "a walk in the park, Rollerblading, trapeze class" and "if you really want to stand out, buy her shoes." And Julia isn't the only person who feels this way!
"Taking me somewhere fancy and knowing how to order wine used to blow my mind," says Rachel, 34, a lawyer. "But alas, I'm now spoiled."
It seems like Julia and her HuffPo bosslady Rachel Sklar have been dishing the girltalk over Cosmos somewhat! Maybe that
17 year old soap opera actress Leven Rambin
she threw a party for last week is their "Charlotte"!

Let Them Eat Shoes
[TONY]