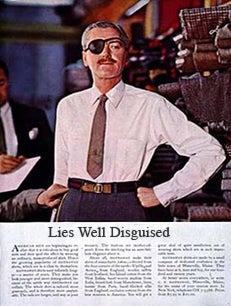 94 years ago, liar H.K. McCann launched his NYC ad agency with the slogan "Truth Well Told." That was a big fat lie. Advertising copywriter Copyranter brings you instances of advertising lies and the lying liars who sell them.
As part of a new "Never Hide" ad campaign, Ray-Ban, your grandparents' sunglasses brand, has released four web "films." The latest one has got some panties bunched—and not just the lusty young things in the video.
Speaking with AdWeek, here's what the modest Chuck McBride, creative director of Ray-Ban's ad agency Cutwater, had to say about his campaign:
"These glasses don't mask who you are, they're a window (Shut. Up!) to who you are. It's one of the best branding ideas I've had (Hear that, Ray-Ban? You owe him.). Everyone gets the double entendre (nice work, Wilde); it's just right strategically for the audience (not from where I sit) and the client, and it is evoking (or is it 'invoking?') a truth. And it's a big idea that a lot of cool executions can live under (ad-speak, ignore). We went out to find the biggest truth (that's a lie) out in a marketplace that is going label-driven and fashion. It is a nice, disruptive (buzzword!) thought."
The video has spurred a lot of heated back-and-forth chatter in ad cyberspace. Me, I was just bored waiting for the not-coming payoff.
ADDENDUM...New York ad agency PR people! Think your firm does hot-shit creative work? Would you like to see a piece on your agency on Gawker? Read this post and then just send an email to Editor Alex Balk.
Previously: How To Get An Ad Copywriting Job