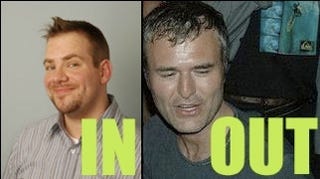 Owen Thomas, the Business 2.0 editor whom we've lured to run Valleywag, is all smiles. But don't be deceived. This Silicon Valley gossip rag, after he takes over in July as managing editor, will remain as obnoxious as ever. You see, Thomas isn't just a veteran of business journalism, with excellent sources in the tech industry (most of which he will burn). The superficially jolly writer was, in an earlier life, one of the contributors to Suck, the legendary site that pioneered web snark. Here's coverage on All Things Digital and Gigaom — Valleywag snags an editor from Business 2.0. After the jump, for the Valleywag-watchers, the highlights of my own seven months on Valleywag. And, this being a critical site, some lowlights.
LOWLIGHTS
HIGHLIGHTS
Pricking the ridiculous hype around Second Life, Linden Lab's virtual world
Calling bullshit on the puffed-up stats of ad-hungry startups
Tweaking Techcrunch's Michael Arrington
Tweaking hyper-networker Auren Hoffman
Tweaking 19-year-old guru, Ben Casnocha
Making fun of the extra-curricular activities of Tim Draper, the singing venture capitalist
Winding up Steve Jurvetson, the most thin-skinned VC of them all
Waving goodbye to Lloyd Braun, Yahoo's Hollywood boss
Being called an "evil genius" by Fred Wilson.
Being called simply "evil" by Michael Arrington
Finding a picture of Larry Page's home on Google's new neighborhood walkthrough
Getting a jump on Mahalo's launch, and funding, despite Jason Calacanis' efforts to mislead
Tracking the hunt for the missing python at Google's New York complex
Breaking the news that Myspace was acquiring Photobucket
Breaking the news of Mybloglog's sale to Yahoo
23 and Me, Anne Wojcicki's new personal genetics startup
And her engagement to Google's Sergey Brin, which Valleywag had first
The accident-prone past of Sean Parker, Silicon Valley's bad boy
Way more about Peter Thiel and his friends than the Valley financier can handle — and more to come, before I sign off
And, hopefully, these stories had something to do with a surge in Valleywag's audience. et me toot my horn here for a minute, pageviews up 210% from October to May. [See below.]
Handing over Valleywag, finally — it was beginning to feel like the occupation of Iraq, a quick one-month project, which turned into a costly long-term occupation, with no exit plan
Handing over to Owen Thomas. The coverage of Silicon Valley has been a labor of love, as well as hate. It would have been hard to give up Valleywag to just anybody. Owen Thomas is the first person I ever approached about the job. And I hope he's the last.