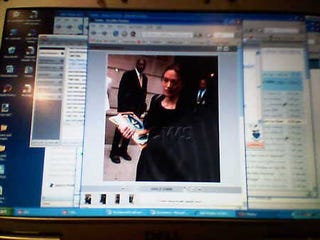 You may not know it, but press-averse Oscar winner Angelina Jolie is a huge fan of quirky literary quarterlies. While some say she developed her interest in the scene during what we assume was her brief affair with n+1's Marco Roth, it's obvious that she's not beholden to any one particular title. Clearly having heard of the financial drain recently incurred by McSweeney's, the talented thespian took to the streets of Manhattan yesterday with a copy of Dave Eggers' What Is The What? as a show of solidarity. Possibly she also agreed to exchange her lifetime subscription for a pack of playing cards. Celebrities: They're just like a couple of doofuses in Williamsburg! [Ed. Note: Yes, that is a picture of Balk's computer looking at the photo of Angelina Jolie carrying the Dave Eggers book that we were not going to pay $500 to buy. It's a nice picture though! Log into the fine website Splash News and go see!]
BONUS DIRECTOR'S CUT: Go behind the scenes and see how this post happened!
If you've read this site with any degree of frequency, for which we apologize, you'll have noticed that Thursdays seem to be the most difficult day for us to put together anything resembling a readable blog. We stretch more, we make items out of things that normally wouldn't merit a mention, we resort to weird, self-referential material that results in a fusillade of indignant e-mails from publisher Nick Denton, all of them simply reading "too inside." But, chatting with a colleague from popular new girly-site Jezebel this morning, we learned that we were not alone.
Jezebeller: Do you want to do something about a picture of Angelina Jolie?
BALK BTW: Hahahaha
Jezebeller: i dunno, just a thought. i have pic if u want it
BALK BTW: Sure, we'll give it a whirl.
BALK BTW: Fucking Thursdays.
Jezebeller: RIGHT?
BALK BTW: We're ALREADY at Julia Allison
Jezebeller: why the fuck are thursdays so awful?
BALK BTW: Nothing publishes at all.
Jezebeller: yeah but thurs. is bad for us too
Jezebeller: and we don't over-rely on that kind of stuff the way u do
BALK BTW: It's a weird, eventless day for whatever reason.
Jezebeller: at least it's one day till friday
BALK BTW: Maybe that's why.
BALK BTW: Can't you guys gin up another "I would totally blow him" IM? People seem to like those!
Jezebeller: what was a totally blow him?
BALK BTW: Oh, just a sort of "hot guys" conversation that you ladies do so well.
Jezebeller: haha
Jezebeller: we'll see
Jezebeller: we have to be "into" it
BALK BTW: I want to do an IM with Choire about why he's so obsessed with the Transformers movie.
BALK BTW: But I'm afraid I'd find out.
Jezebeller: HAHAHA
Jezebeller: PLEASE DO THAT
BALK BTW: I think we'd all be too frightened to learn the real reasons.