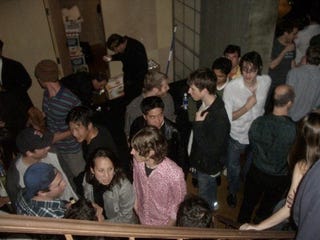 So, just how wild is the new generation of Silicon Valley players? To answer the question, let's take the young playboys of the Founders Fund, and the bachelor pad two of them have just bought, tantalisingly nicknamed the 'Grotto' after that most raunchy corner of Hugh Hefner's Playboy Mansion.
Peter Thiel — for all the financier's social awkwardness, teetotal aversion to alcohol and obsession with immortality — has always had a weakness for libertines. The former Paypal founder, now a hedge-fund investor, took hard-partying Sean Parker under his wing, despite a "misunderstanding" involving the young entrepreneur and some cocaine. Nor do the two other managing partners of the Founders Fund, Thiel's venture capital arm, follow the boss' puritan lead. Thiel's colleagues, Ken Howery and Luke Nosek have just bought, with Premal Shah of Kiva.org, the mansion on Pacific Avenue once occupied by Gavin Newsom.
The lavish bachelor pad — which has a six bedrooms, four bathrooms, a pool on the ground floor and a baronial dining room — has been assigned a nickname by Thiel's whizkids: the Grotto. The original Grotto was a particularly decadent corner of the Playboy Mansion in Los Angeles. As Thiel's sidekick would know well. Because, during his wilder days, Howery snuck into Hugh Hefner's legendary bacchanalia, disguised as a caterer.
So, how does the Founders Fund grotto stack up against the original? Well, here's a snap from a recent party the geek playboys hosted for Matt Cohler of Facebook. It was "packed to the gills", said one impressed guest. And, in the photograph, above, in a sea of baseball-hat-wearing geeks, I count one possible woman. Oops, and there's one feminine arm on the right. Two. By comparison, below, Jack Black, the actor, with two playmates, at the original Playboy Mansion. I bet he wishes he were rather in Pacific Heights.