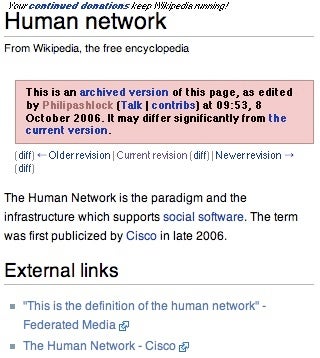 Federated Media, John Battelle's network of star tech writers, was warned nine months ago about the dangers of spokesblogging. The ad network's controversial campaign for Microsoft — which has provoked the current outcry — isn't the first to set off warning bells. Last September, a revenue-hungry Federated sales rep proposed to several authors that they come up with a definition for "human network", the catchphrase of Cisco Systems, which would then be used in advertising, and tied to a new entry in Wikipedia (click on thumb).
Jeff Jarvis, the media commentator, writes one of the affiliate sites approached to help the communications equipment giant promote its slogan. Jarvis, who's always argued that web writers should abide by many of the same standards that govern journalists in traditional media, sent a forceful email advising Battelle's FM of the likely backlash against their advertising client. He wrote, in two passages he's now posted to the site:
"This will get them KILLED in the net. It is wikipedia spam. It is not transparent. It is wrong for them and wrong for me and I would say for FM... I want to stay as far away from this as possible. And I will still counsel that FM should also. If you're going to sell your soul, I suggest doing it for a fuck of a lot more than $559! Not that someone cannot choose PR and press-release writing as a career, but I would hope that is not what FM stands for.
Battelle's ad network carried on, regardless. Pictured, here: the original article on the "human network" on Wikipedia, together with a convenient link back to an advertorial page hosted by Federated Media. On that page, quotes from Phil Torrone of Make Magazine, Matt Haughey of Metafilter, David Pescovitz of Boing Boing — and Michael Arrington of Techcrunch, of course. All explaining what the "human network" — the Cisco slogan — meant to them. They were just making conversation. Sure.