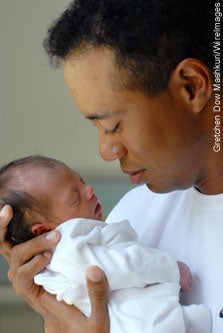 The New York Post today fronts a photo of golfer Tiger Woods with his smoking-hot wife and new daughter Sam. While commending Woods for releasing the pictures without seeking remuneration, the paper is totally confused about his offspring's ethnicity.
Sam already outdoes her dad in terms of multicultural makeup. Her Swedish mommy adds an extra layer to her papa's already far-flung heritage.

He's one-quarter Chinese, one-quarter Thai, one-quarter African-American, one-eighth American Indian and one-eighth Dutch, and has always referred to himself as "Cablinasian."

What that makes Sam is anybody's guess.
Oooh, we'll take a shot! How about "a baby?"