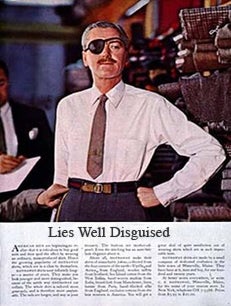 94 years ago, liar H.K. McCann launched his NYC ad agency with the slogan "Truth Well Told." That was a big fat lie. Advertising copywriter Copyranter brings you instances of advertising lies and the lying liars who sell them.
Last week in AdAge Lenore Skenazy got her panties (or whatever her choice of undergarment is) in a bunch over the adult classified ads in the back of reputable newspapers and magazines—she claims they're for hookers! The ads also upset me—they're boring! I've lined up three ads for alleged Ladies of the Night. Let's see if we can come up with some come-ons.
Back In May, I took a stab at writing lines for a SheMale escort ad. This time, I grabbed the latest copy of the Village Voice and turned to the "adult bodywork" section. It's spread out on my desk right now. My art director Keri just walked by, shaking her head.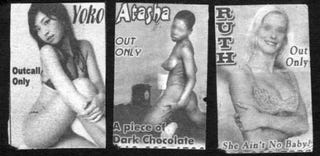 First up, Yoko. As you may or may not know, the adult classifieds are chock full of Asian women. So Yoko needs a little something else to break through the clutter. Iif she's gonna use that name, then I think she's gotta play it up:

Be My John?

Oh No, You've Never Had Better.

Give This Piece A Chance.

Next: Atasha. Yes, she certainly is a piece of (yawn) dark chocolate. I do like the fun typeface on her name, but she needs to sweeten that sales pitch!


What Can Brown Do For You?

Godiva's Got Nuthin' On My Box Of Chocolate.

Fudgie The Tail (eh).

Lastly, there's Ruth. Well, I applaud the effort here with the candy bar reference. But we can do a little better.


Ruth Likes It Uncouth.

RUTH. BABE. (big Helvetica type, ghosted over her pic)

Ruth something something...

OK, I wrote this post this morning at 8, because I had to work past midnight last night because my boss is in the goddamn Hamptons this week in his fancy house on the bay. So, feel free to write your oh-so superior lines in the comments, Or not. I don't care. I'm tired.

Previously: The Best Ad In The World