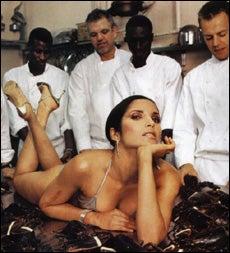 The full effect of the Padma-Salman split perhaps may not be felt for years. A few things thus far can be said with confidence. Salman Rushdie may be the greatest Indian writer since Rabindranath Tagore but Padma Lakshmi is perhaps the most beautiful woman ever. Sadly for him, his genius mind was obscured by his scrunchy face and pudgy Salman body. The situation left Padma full of desire; the desire to end their marriage. During the years of their togetherness, pudgy scrunchy-faced authors worldwide could look toward Rushdie and say, "Well, if HE can do it..." before approaching some gaspingly beautiful woman during BookExpo. Well turns out he couldn't—which is heartbreaking to the geeks and a relief for beautiful women tired of hearing the line, "Hey baby, wanna see my PEN/Martha Albrand Award for First Fiction?" The more immediate and less depressing fallout is that Padma Lakshmi is moving out of the apartment the two shared.
As New York magazine reports:
Two weeks before her soon-to-be-ex-husband Salman Rushdie announced he was granting her a divorce because of "her desire to end their marriage," Padma Lakshmi quietly shopped for a new apartment. Sources say the former model may be looking to lease instead of buy, since last week she had her broker check out a $10,000-a-month penthouse duplex at the Modern, a "green" luxury rental building on West 16th Street. (Fashion designer Norma Kamali eyed the $11,000-a-month maisonette there but hasn't committed.) The location certainly makes sense for Lakshmi, who hosts Top Chef: It's right across from Chelsea Market, where she tapes episodes of her TV series.
Well, it also makes sense because, a) she has a thing for all things green and b) she has a faiblesse for chefs and, if you can't get an apartment inside the Union Square farmer's market, you might as well live at the Chelsea Market.