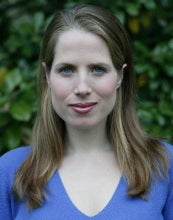 Sammy's House author Kristin Gore is a smart cookie. The people at the Washington Post Book Review? Not so much so. Reviewing Tipper and Al's gal's second novel, Patrick Anderson writes that it "can only be read as an angry, down-and-dirty roman à clef in which President Wye and Vice President Gary stand in for President Clinton and Vice President Gore." Responds Kristin: "It would be difficult for this to be less true." Oh it is ON.
Her letter in response to the review:
In actuality, Sammy's House can and should be read as an entirely fictional comedy set in a fascinating political world.

Take it from me, I really love making things up, which is why I write fiction for a living. I'd rather give myself a thousand paper cuts than write a thinly veiled roman à clef. For this reason, what I've actually done — despite Mr. Anderson's faulty characterization — is much more creatively interesting to me: I've written a novel.

To be clear, President Clinton was never the model for my fictional President Wye. And my first lady is certainly not based on Senator Clinton. To suggest otherwise is insulting to them and disappointing to me. I have tremendous respect for both President and Senator Clinton and would never write about them in the way your review alleges.

In terms of real-life examples of scandal and corruption, there are plenty throughout history — including contemporary history — from which to choose, but I relish inventing my own. And on the evidence of Mr. Anderson's review, he enjoys writing a fun bit of fiction as much as I do.

Kristin Gore
SNAP.

Historical Fictions
[WaPo]