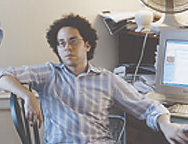 n+1—the most important literary journal of your slightly younger brother's time—is making a pamphlet for college freshpeoples! This one is, say the editors, "about what we wish we'd known when we were college freshman, and what books we wish we'd read. 'What We Should Have Known.' Is that too cumbersome? We'll be slipping it under the doors of incoming first-years at select universities this September. Really." Mmm, "select" universities. (Good youngster recruitment technique! Just like the free Times Select for college emails!) Anyway, not having been to no college, I'm mystified by what this pamphlet might contain. How to sleep in class—or sleep around in class? Advice to skip Chinua Achebe for Ngũgĩ wa Thiong'o? Illustrations of scabies v. crabs?
n+1's latest e-blast (ha!) also plugs editor (and Dalton graduate!) Marco Roth's memoir in progress. Here's some out-of-order sentences from it: "[L]ight pouring from the East River through the bank of windows overlooking Central Park... I hate myself for writing a memoir and I hate most contemporary memoirs... [The living room was] large enough to seat 30 people for the chamber music concerts my parents hosted two or three times a year... a magnificent, pre-war, two-story temple to neo-classicism... the kitchen was about the size of the one-bedroom apartment where I'm writing now." There, done!
Finally, there's a genius plan to send out copies of their mag all over the world using traveling lawyers. That's just funny.
From: Editors of n+1 < subs@nplusonemag.com> Date: Aug 3, 2007 2:31 PM Subject: n+1 reading on the Hudson Pier To: subs@nplusonemag.com

Dear Beloved Subscribers,

Greetings from n+1 headquarters, where the air-conditioning is not what it is in your standard major New York publisher, to put it mildly. But we do have Microsoft Word, and email, and the hardiest
band of interns in n+1 history.

Some news:

READING NEXT WEDNESDAY, AUGUST 8. At the Hudson Pier, Manhattan, 7 pm. Rebecca Schiff, who appeared in the Issue 4 Fiction Chronicle, will read her dark, comic tales of post-industrial love-seeking in New York and Boston. We will also inaugurate, on the Hudson Pier, our first experiment in having a trained actor read a piece from n+1—in this case, Eli Evans's "TV Diaries," from Issue 5. We'll see what
happens. Please come if you can. Afterward we will go over to the [SITE OF PARTY REDACTED, TO AVOID ANNOYING EMAILS] which happens to serve an excellent burger, if you're hungry, plus beer.

*Note*: We don't yet have the exact pier assignment from the Parks Department. To avoid incessant emailing of everyone, we're going to post the location at the top of our website (www.nplusonemag.com) as soon as we have it, we hope by Monday at the very latest.

PAMPHLET #2: We are making another pamphlet—this one about what we wish we'd known when we were college freshman, and what books we wish we'd read. "What We Should Have Known." Is that too cumbersome? We'll be slipping it under the doors of incoming first-years at select universities this September. Really. It will also be on-sale to non-college students, just in case. But anyone who can prove college first-year status is entitled to a free copy.

RENEW: Please renew if you haven't! There will be many more n+1s, and renewals keep us alive.

www.nplusonemag.com/renewal.html

(Note: The pamphlet referred to on the renewal page is the PS1 pamphlet on the avant-garde. We'll make the second pamphlet available for purchase as soon as we send it to the printer.)

NPLUSONEMAG: Continues to produce high-quality internet-only web gems, recently featuring the work of the beloved crazy German-Swiss writer Robert Walser:

www.nplusonemag.com/newnovel.html

Also, Nikil Saval on Bobby Seale at BAM.

www.nplusonemag.com/seale.html

and Carlene Bauer on how Sassy didn't actually change her life:

http://www.nplusonemag.com/sassy.html

Elsewhere on the internet, we're proud to recommend Marco Roth's continuing series of memoirs at Nextbook.org. They're really quite remarkable:

http://www.nextbook.org/cultural/feature.html?id=554
http://www.nextbook.org/cultural/feature.html?id=571
http://www.nextbook.org/cultural/feature.html?id=597
http://www.nextbook.org/cultural/feature.html?id=652

And a bonus treat:
http://www.nextbook.org/cultural/feature.html?id=464

Finally, while we're at it, Rebecca Curtis's book of stories, Twenty Grand: And Other Tales of Love and Money is now in bookstores. "The Near Son," which appeared in Issue 5, is in it; it's a very good book.

AND, our good friends at Paper Monument are now putting the final touches to their first issue, and threaten to throw a large party in September. Be sure to subscribe here:

www.papermonument.com.


NEW INTERNATIONAL DISTRIBUTION SCHEME: Remember how we called on people to contact Greg Jackson, International Distribution Tsar, if they were going abroad? Well, that did sort of work—heroic
subscribers lugged issues with them on vacation to Beijing, Berlin, Barcelona, and Bogota (seriously). But now we've added a whole new dimension: lawyers. All across midtown New York, boxes of n+1s are now
sitting in prestigious law firms, ready to be toted by lawyers who need to fly to Europe or South America for two days in order to read through a single foreign document. But we need people to meet the
lawyers. So: The old offer—bring n+1 on vacation—still stands. The new offer: If you're already *in* a foreign city and think n+1 could sell three or four copies there, we'll send a corporate lawyer out
there as soon as—well, as soon a major corporation in your country gets sued. So let us know you're there.

WEST COAST TOUR: We're doing a West Coast tour in the late fall. The n+1 informational blackout on the West Coast must end. There are entire communities in California that have never even heard of the
magazine. And yet every day they die a little for lack of what they'd have found in Issue 5. "TV Diaries," for example. "The Blog Reflex." "The Meaning of Life, Part 2." More on this later. And if you happen
to be attached to a university in California, Washington, or Oregon, please consider inviting us to speak.

Speaking of Issue 5...

ISSUE 6: We've entered production on the issue. Poetry from an unknown poet, fiction from an admired literary critic, the definitive history of the cubicle, and also the first-ever world-wide appearance
of the new novel by the incomparable Helen Dewitt, author of the Last Samurai. Seriously. Estimated shipping date: October 1. If you plan on moving between now and then—please let us know your new address. Issue 6 is not to be missed.

Finally, a very short but militant story by the Russian poet Kirill Medvedev:

"In Praise of Evolution"
The owner of a factory—his underworld nickname was Toothache—sat in a cafe wondering how he was going to destroy the union. For a while this was the most important thing in his life. He was working up some ideas about it now, when all of a sudden a group of comrades walked by the cafe bearing a red flag. The factory owner decided that the revolution had come, and he began to repent, and shed tears, and share his profits with the workers. But it turned out this was just a slow evolution, and there was still plenty of time to exploit, crush, and kill.


As ever,

Keith Gessen (for n+1)

Carla Blumenkranz

Mark Greif

Chad Harbach

Ali Heifetz

Benjamin Kunkel

Allison Lorentzen

Marco Roth

Nikil Saval