You may have seen an article in this weekend's Times Sunday Styles section concerning frustrated office workers yearning for pinprick shafts of fame who achieve those tiny morsels of celebrity by offering tiny nuggets of wit on popular weblogs. That's right: The age of the commenter has arrived! Using a tortured analogy to Elton John's "Rocket Man," the article, absolutely dripping with derision, examines the psychology of why someone might extend so much effort for such a meager payoff: They're too lame to start their own blogs!
Since many blogs have a readership of one — or, at best, the writer, his mother and some guy he sat next to in seventh grade who found him on Google — piggybacking on a more popular site offers a wider audience for a keyboard jockey's gripes and quips. Not everyone is up to the task of creating a blog with the kind of consistent tone and provocative topics that attract visitors.
But it's not all in vain. Why, some commenters find fame even in the oddest of circumstances. Take this website, for example:
The real-life identity of one of Gawker's most frequent contributors, and a best of the week honoree, LolCait, was a mystery to the editorial staff until a few weeks ago. That's when Richard Lawson, a 24-year-old sales coordinator in the Gawker Media ad department, who was worried his insider status could be discovered and ethically embarrass the company, confessed that he was LolCait.

His success shows how good commenting has become social currency online. Mr. Lawson, who studied playwriting in college, said he started leaving comments after he was hired five months ago, just to see if he could survive the audition as a Gawker-approved commenter. He made it...

"That was when some of the other commenters started saying, 'Hey, I like your stuff,'" Mr. Lawson said in a telephone interview...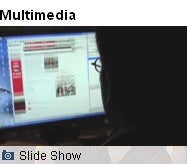 Since he confessed, Mr. Lawson's job responsibilities have grown, although he has not received a raise. He was put in charge of choosing the best comments of the week.
Poor LolCait. That's pretty much the opposite of a raise! Still, keep plugging away, commenters! Some college kid in Texas is now pulling down a sweet twenty grand a year just for doing 30-50 entries weekly for a site on which he used to comment obsessively. If you're ready for the fast-paced world of professional blog commentary—the money, the fame, the hard drugs and easy women—it's yours for the taking. All you have to do is come up with a funny rhyme for "Tinsley" and then sit back and enjoy the ride!
And now, for the first time ever, a video of a blog commenter commenting. Herewith, "A Commenter's Art: LOLCait Live."


All-Stars of the Clever Riposte [NYT]