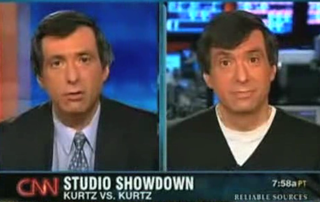 Howard Kurtz is cracking up, people! That is to say, he used the word "D'oh!" in his Washington Post column today, in which he reckons that Comedy Central funnyman Stephen Colbert actually is running for the Office of President of These United States because: "Not only was the guy on 'Meet the Press' Sunday, but some pundits are openly debating how many votes he'll get in South Carolina." Poor Howie—his book on the network news wars is being touted as "the new cure for insomnia" by Harper's Washington editor, Ken Silverstein, who read Kurtz's blog last week and threw up in all our mouths a little.
"Reader comments, almost universally hostile, are the only thing really worth reading on Kurtz's blog," says Silverstein. It's true, the poor guy's getting hammered. Some of our own favorites include:
"You must be kidding me. Could there be a more narcissistic, self-pleasuring blog than this one? I know all blogs have a measure of ego in them, but holy crap, Howie, reading this is like listening to you masturbate. 'Oh, Howie, you're so good ... yeah, just like that ... tell me more about your lunch with George Will.'"
"I looked at your book and it's missing the subtitle: 'As told by Sherri Annis.'"
"Tucker Carlson made an interesting point when I was on his show today.
I just realized this website is 100% parody. Whoever is behind this: keep it up!
"Not only would I not hit a dog in the ass with your lame new book, I intend to go so far as to purchase a dog, just to keep on hand, so that I can constantly fail to hit him in the ass with your lame new book."
"Okay, this is a joke, right? A parody of a vanity blog the likes of which the world has never seen? All you left out at the beginning of each entry, Howie, is 'Dear Diary.'"
"You suck up to really horrible people like Glenn Reynolds and Michelle Malkin and then play this false equivalency rhetorical game. It's really revolting to those of us out here sick of the media playing along with the GOP. It's been done for so long that you don't realize you're being punked any longer.

I would suggest you spend a year outside the Beltway, away from the cocktail parties and such, and reconnect with the rest of America. Then you might realize what we're all on about."