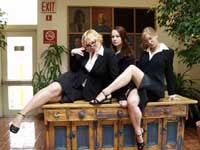 The largest advertising company of Japan was involved into huge sexual scandal. The former creative director of its U.S. arm accused it of pressing him to visit a brothel and engaging in engage in other sexually explicit activities on company outings and said he was fired because of complaint.
Though actually we can't decide it that's as funny as the
Ad Age story's
charming and succinct subhed,
"Emphasizing Crotches."
Also, "The lawsuit comes at an awkward time for the company, as it seeks to penetrate the U.S. market."
Japanese company accused of brothel outing
[Pravda]
Former Dentsu Creative Sues Over Trips to Brothel, Bathhouse, Sharapova Shoot
[Ad Age]