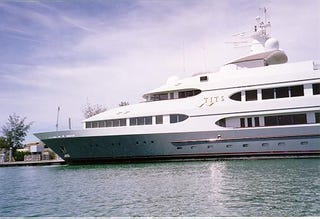 So Russian oligarch Len Blavatnik didn't shell out $150 million for an apartment after all. (Lots of people signed letters of intent to buy that apartment, but that sure doesn't mean they will.) But! The feud between Prince Jefri Bolkiah and his brother Sultan Hassanal Bolkiah of Brunei has enough asset transference to last us for a while. Prince Jefri Bolkiah, who was once sued for turning an ex-Miss USA into a sex slave, was ordered to give his Palace Hotel back to his brother. Turns out Prince Jazzy Jefri embezzled nearly £8-billion from Brunei while he served as that country's finance minister.
So he's been ordered to return, according to the Times of London, "his imposing mansion, St John's Lodge in Regent's Park... the Bel-Air Hotel in Los Angeles,... property at Place Vendôme in Paris, close to the Champs Elysées, a mansion in Singapore and an undisclosed quantity of cash and jewels."
C'mon! Let it go, Sultan! He's already sold off "sold 400 Victorian lampposts, two unused Mercedes-Benz fire engines, several hundred Louis XIV gilt chairs, a fleet of forklift trucks, jewelery, the machinery to operate a bowling alley and 16,000 tonnes of Italian marble which were stored in 21 warehouses." (The Sultan, who rewrote the constitution of Brunei to make himself infallible, obviously gets whatever he wants.)
But making poor Prince Jefri sell off his bowling alley machinery? Way harsh. But even worse, he had already been forced to part with 17 airplanes and his yacht, which was actually called Tits, and its two tenders, Nipple I and Nipple II.
Sultan's Brother Told to Repay Billions [TimesOnline]
Hotel Fit For Sultan [NYP]