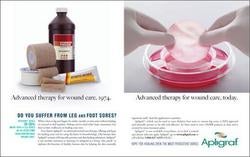 It is applied to the sore by a physician during a brief inpatient procedure. It eventually integrates into the wound, and helps it heal by encouraging other cells to generate more healthy cells.

The practice has been controversial because the basic material for Apligraf is human foreskin from circumcised baby boys.
Please keep these ad agency people in your prayers.
[photo via Adweek]