There are two ways to submit story tips to gawker.com.
E-mail us at tips@gawker.com, or e-mail one of the editors listed in the masthead to your left.


The gawker.com Tips Tool
is an automated way to submit story tips to gawker.com's editors. The post will also be published on gawker.com/tips. If an editor likes your submission, it may get promoted to the front page.

Make sure you are logged in, or register for a new account. Visit any website and select/highlight a bit of text on the page to start a new post. The Tips Tool will also look for an image or video to accompany the text.
Installing The Tips Tool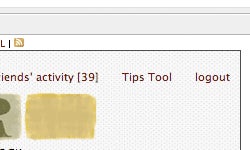 Just drag this link: Tips Tool
Firefox and Safari
Click and drag the link above to your Links Toolbar. Note: In some browsers, the Links Toolbar has another name. It's called "Favorites Bar" in IE/Mac, "Bookmarks Toolbar" in Firefox, and "Bookmarks Bar" in Safari.
Internet Explorer
Right-click on the link above and select "Add to Favorites." A "Security Alert" box will warn you that the link may be unsafe, click "Yes" (it's safe!), and then create the page in the "Links" folder of your Favorites.