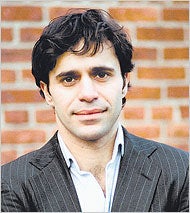 Oh noes! Someone at the Spectator, Columbia University's student paper, wrote a negative review of literary mag n+1 editor Keith Gessen's novel, All the Sad Young Literary Men. Now another Columbia kid, Mark Krotov, is coming to the rescue! Wait for the disclosure: "I have done a little work for Gessen and his magazine, which has a very low circulation rate." NEG! Is it just us, or is Keith's entire world very incest-y?

First of all, Krotov lets us know that what goes on in Columbia's student paper is important, if only because "the Spectator's circulation rate is greater than that of many 'influential' publications."
Furthermore, the original Spectator review of Gessen's book was "instructive in its failures," and he takes issue with this part:
[Gessen's] "inclusion of highbrow intellectualism perfectly characterizes [his] tendency to name-drop literary or philosophical figures ... Gessen is so earnestly immersed in this intellectual façade that it is easy to imagine him referencing Heidegger in everyday banter."
But that part is funny! Counters Krotov:
Or maybe Gessen includes all of that "highbrow intellectualism" to illustrate the divide between his characters' realities and their profound political ambitions, and the "intellectual façade" might have more to do with their own failures of political disengagement than their writer's Heidegger-referencing yuppie elitism.
Ahhhh!
What would Heidegger do
??!
[Photo:
Suzanne Goldish for the NYT
]