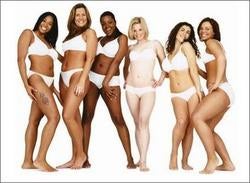 "It is known that everybody does it, but they protest," Dangin said recently. "The people who complain about retouching are the first to say, 'Get this thing off my arm.' " I mentioned the Dove ad campaign that proudly featured lumpier-than-usual "real women" in their undergarments. It turned out that it was a Dangin job. "Do you know how much retouching was on that?" he asked. "But it was great to do, a challenge, to keep everyone's skin and faces showing the mileage but not looking unattractive."
Why, that would make Dove a bunch of rank hypocrites! A spokeswoman for Dove's ad agency tells Ad Age that "We are unsure right now what he did," and adds:



"There was no retouching of the women," she said. "If there was a hair that was up in the air, that might have been the kind of retouching that was done. But until I know what he actually worked on, I can't comment on it."
If only for the excessive amount of self-righteousness that accompanied the PR effort surrounding this ad campaign, let's sincerely hope these retouching allegations are true.