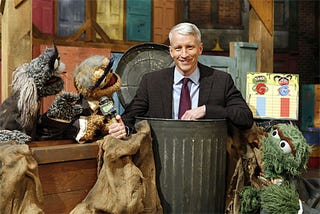 The most beautiful cable news anchor of all time ever is 41 years old today. Maybe his mom will come by the studio to sing to him? Or maybe mean Mrs. Clinton will ruin his party by making him report "news." Sigh. [HuffPo] (After the jump, we'll share some birthday wishes for Anderson from HuffPo commenters.)
Happy Birthday Anderson! I love you and your show and the fact that you're a Gemini like me is even BETTER!!
Anderson Cooper looks just like Larry King.
HAPPY BIRTHDAY MR. COOPER,

YOU ARE ONE OF MY FAVORITE JOURNALISTS!!!!!!!!!!!!!!!!!!!!!!!!!!!!!!!!

CONTINUE TO BE BLESSED!