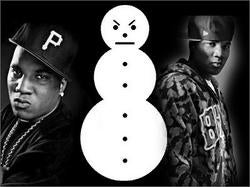 Simms testified that his job was to unload BMF's cocaine from limos outfitted with secret compartments. He said he piled as many as 100 "bricks" of cocaine at a time inside the basement of one of BMF's stash houses, an ultra-modern Buckhead mansion nicknamed "Space Mountain." And he said that on one occasion, in the fall of 2004, he was ordered by high-ranking BMF members Chad "J-Bo" Brown and Martez "Tito" Byrth to set aside multi-kilo cocaine "shipments" for two customers. Simms said the customers picked up the coke from him at Space Mountain.

When asked by assistant U.S. Attorney Robert McBurney who the customers were, Simms gave two names: William "Doc" Marshall, a high-level BMF co-conspirator who testified earlier in the trial, and "Jeezy."

"Young Jeezy the rapper?" McBurney asked.

"Yes," Simms answered.
Less than surprising. But this could really put a cramp in Jeezy's brand new social networking site. On the site right now:
Quote of the Day

A successful man is one who can lay a firm foundation with the bricks others have thrown at him.

David Brinkley
APPROPRIATE. Now enjoy this Jeezy coke rap song. He wasn't kidding, yall.