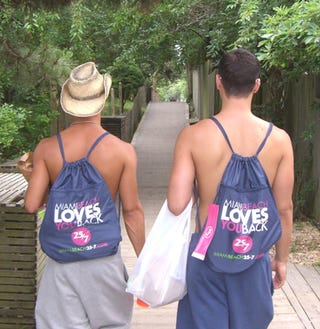 Media gadfly and sometimes Radar blogger Choire Sicha hung out at the Meat Rack in Fire Island this weekend, wearing short-shorts and pretending to read. Why? There have been recent arrests for public sex in the gay-cruising area, and he's ready to catch them in the act! (The act of arresting, that is.) Hey, did the"circle jerk for freedom" protesting the arrests ever take place?
Sadly, it didn't. Also, the Department of the Interior claimed such arrests never happened; that assertion was "happily quoted" by gay magazines. Meanwhile:
So out in the Meat Rack, the federal forest between Cherry Grove and the Pines, I met a man who described his "flavor" as "Blatino" and who suggested, unprompted, for himself the pseudonym of "Max." He reported that he had seen a timid, anxious three-way taking place in the bushes that afternoon and not much else—but that the Meat Rack had, last night in the wee hours, been hopping. No one expected the park rangers to have the budget for night patrols.

...And the following day, Sunday, things were pretty quiet; no cops of any stripe. Everyone had heard that the new park rangers put on staff at the Fire Island National Seashore had been informed by their superiors that arresting gay men for lewd behavior was not a priority here. How that might have been put to them was not explained.
Perhaps they were just trying to avoid stumbling upon the circle jerk.
Promises In the Park [Radar]