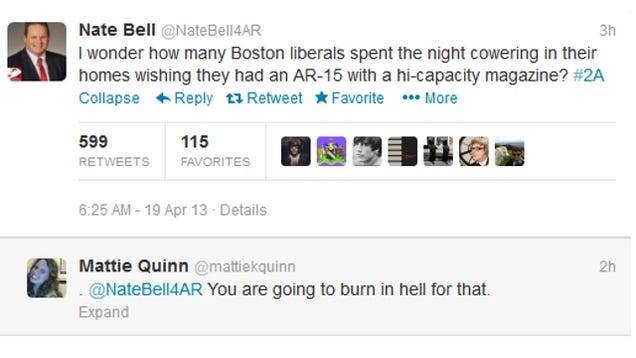 A Republican lawmaker from Arkansas upset both Bostonians and non-Bostonians from both sides of the aisle this morning after he felt the need to tweet a pro-gun message around the time two armed police officers were being shot in their pursuit of the Boston Marathon bombing suspects.
"I wonder how many Boston liberals spent the night cowering in their homes wishing they had an AR-15 with a hi-capacity magazine? #2A," tweeted State Rep. Nate Bell (R-Mena) shortly before MIT confirmed that one of its officers, 26-year-old Sean Collier, had been shot and killed in the line of duty.
MBTA officer Richard H. Donohue Jr. is still recovering in hospital from the injuries he sustained during the shootout with the suspected bombers.
After angering thousands with his remarks, including Arkansas House Speaker Davy Carter (R) who apologized on Bell's behalf, the NRA-endorsed legislator finally pulled the tweet and apologized on his own behalf.
I would like to apologize to the people of Boston & Massachusetts for the poor timing of my tweet earlier this morning. As a staunch and unwavering supporter of the individual right to self defense, I expressed my point of view without thinking of its effect on those still in time of crisis. In hindsight, given the ongoing tragedy that is still unfolding, I regret the poor choice of timing. Please know that my thoughts and prayers were with the people of Boston overnight and will continue as they recover from this tragedy.
The Arkansas Times notes that this is far from the first time Bell has made extremely questionable comments through social media sites.
Just two years ago, Bell took to Facebook to post — and then defend — a fake Hitler quote he attributed to Mein Kampf.
[screengrab via KARK]