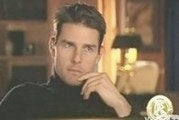 A man claiming to be Heath Ledger's father Kim has been trying to scam stars. Weirdly he's been targeting Scientologists like Tom Cruise and John Travolta. (There's always been confusion between the two.) Actually, targeting Scientologists is a pretty genius plan. They clearly fall for bullshit and are quick to part with their money. Of all potential marks the man approached, it was Tom Cruise, the only man who can do anything about anything, who fell for the ruse the hardest. According to the Post, "The hoax began soon after Ledger, 28, was found dead...by the next day, a man claiming to be Kim Ledger managed to get Cruise on the phone, a source said." And guess what? Cruise believed the bullshit! Who would have thought!?!
Over the next few days, he "had had a couple of conversations with" Cruise, asking for emotional support, said the source. But Cruise abruptly cut him off when he learned "he was an impostor," the source said. "Heath's reps found out there was this hoaxer and they called various celebs." Sources close to Cruise confirmed the impostor contacted him.
I bet the conversation was pretty weird considering that in Cruise's faith, "The subject of death is never a very serious one to a Scientologist beyond the fact that he feels kind of sorry for himself sometimes. ... [The deceased person] was thoughtless enough to dispose of his body and go out of communication. A person sometimes feels pretty unhappy about it and thinks it's a thoughtless thing for a friend to do."