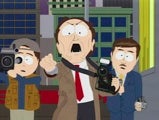 "We're trying to get the shots before they go into rehab," said Brandy Navarre...



"We don't have to send 500 faxes and deal with a publicist," Ms. Navarre said. "We just go out there and do it."



But Bonnie Fuller, editorial director of American Media and former editor of Us Weekly, probably described the appeal of the approach most directly. "It's invigorating," she said.
The NYU panel was sponsored by the Atlantic.
[Ad Age]