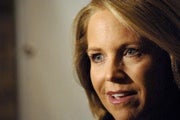 The Journal cited anonymous network executives and sources close to Couric in its report. An CBS spokeswoman denied "plans for any changes regarding Katie," and a spokeswoman for Couric issued a statement that didn't address the matter.
Couric may end up replacing Larry King on CNN, the newspaper speculated:
One possible new job for the Ms. Couric: succeeding Larry King at CNN. Mr. King, who is 74 years old, has a contract with the network into 2009. CNN President Jon Klein, a CBS veteran with close ties to some at the network, has expressed admiration for Ms. Couric's work, and the two are friends. They had lunch in late January, and the anchor attended Mr. Klein's birthday party in March. Time Warner Inc.'s CNN said, "Larry King is a great talent who consistently delivers the highest profile guests, and we have no plans to make a change." Through a publicist, Mr. King declined to comment.



Mr. King's talk-show slot at CNN might be a better fit than evening-newscast anchor for Ms. Couric, who is 51. She made her reputation as a skilled interviewer when she was an anchor at the "Today" show on General Electric Co.'s NBC network.
Ratings for the Evening News have remained mired in third place for the 18 months of Couric's tenure. In fact, after an initial spike, Couric, once known as "America's Sweetheart," has never exceeded the ratings of her predecessor Bob Schieffer, the sort of conventional anchor she was supposed to zoom right past.
[WSJ]