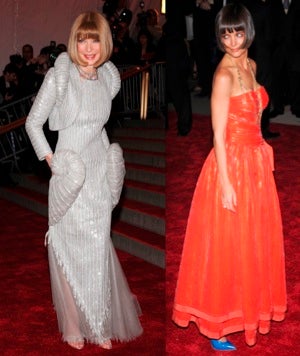 All of the important pretty people got dressed up for the Metropolitan Museum's Costume Institute Gala, which was themed "Superheroes: Fashion and Fantasy." Vogue editor Anna Wintour wore the Karl Lagerfeld Chanel dress on the left. Of this creation, Australia's Age said Wintour "got it horribly wrong;" one blogger said it was "one of a kind... which is good because we don't need two of those;" and the diplomatic Times said it "had curiously curling crescents attached at the hips and the shoulders, giving Ms. Wintour... the fuller-bodied appearance of Botticelli's Venus on her clamshell." Ah, "curious," not the highest of compliments. Anna could use a break, what with the LeBron James King Kong cover, the Rodarte weight thing, getting dissed by European fashionistas, etc. etc. Sad, pitiable Anna. Laugh (at a few more media celebrities' outfits, starting with Katie Holmes, pictured right) through tears (for sad monster Wintour) after the jump.
The Times said Holmes was "looking perfect," but Fabsugar, even while catching the Superman reference in the outfit, wrote, "hot mess... just too reminiscent of '80s prom."
Here's comedian Sarah Silverman, "wearing a polka-dot teacup skirt from Dolce & Gabbana, paired with filthy black-and-white fingerless knit gloves, which she described as 'flair from my backpack that I bought at one of those mall stores for $9... The woman from Dolce & Gabbana said, "Please don't wear those." I did.'"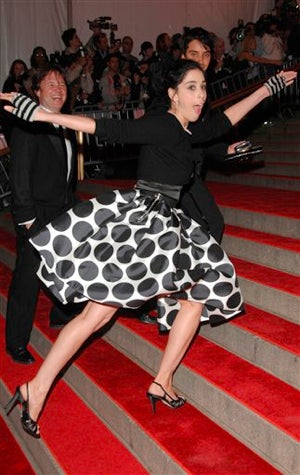 News Corp. Chairman Rupert Murdoch (background, left) with wife Wendi. Australia's The Age: "Love the colours and the fabric... it's the shape that worries me. It's a bit ''tip me over, pour me out."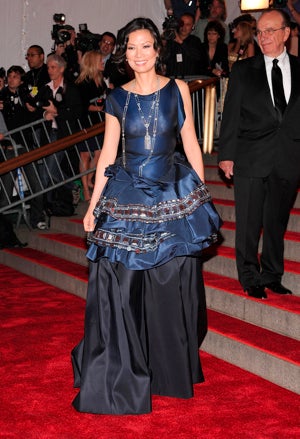 Designer Marc Jacobs leaving with Sofia Coppola, because if he'd taken a boy it would have just ended in a big pissy fight over three-ways. No one dared to say anything mean about their outfits.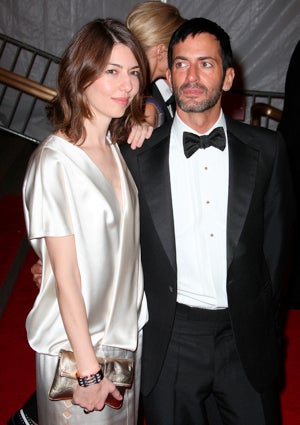 USA Today (ever the fashion source): "Dolce & Gabbana decked out Scarlett Johansson, who made news on Monday when she announced that she and actor Ryan Reynolds were engaged. Although she wasn't flaunting her engagement ring as she walked the carpet holding hands with her designer hosts, it was probably one of the most-talked-about accessories of the evening."