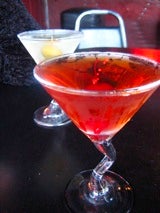 "Helen Malani, an online shopping expert [in Los Angeles]... has already bought seven tickets to an opening-night showing on May 30. One guest is coming from as far away as Arizona... the chance to 'hoot and holler' at the screen with a like-minded sisterhood has been lacking in her years of devotion to the series."
"In Vail, Colo., Bonnie Vesey plans to go one better, with cosmopolitans and an Asian fusion dinner party for 10 at the Beaver Creek resort before a 9 p.m. screening at a nearby theater... 'We're all going to dress fabulously... I'm the Kim Cattrall of the group.'"
"In Manhattan, On Location Tours sold out 300 tickets, at $130 each, for a special 10-hour tour of "Sex and the City" hot spots. The night peaks with a group viewing of the movie at a reserved theater auditorium in Midtown, followed by a party at a club in Chelsea."
"A spokesman for... an online ticket service said... 26 percent of those who responded planned to see the film 'with the whole gang.'"
"Approximately 20 'beautiful females have all decided to meet for the event starting at Mangia e Bevi then out for a stroll to the movies with our man Manhattan...'"
On the bright side, this will be a huge, huge money night for cat-sitters.
[Times]
(Photo via EveryStockPhoto)