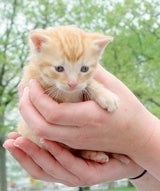 "They are telling folks that they are trying to adopt these animals out, but that is patently not true," said Patrick Kwan, New York state director of the Humane Society of the United States.



"These animals cannot be adopted out. This is an extermination program that sentences them to death."
Since the cats are feral, you're not allowed to adopt them from the shelter.
But you could try boycotting major JFK customers like, say, JetBlue, for not trying to exert more pressure on the port. It's not like that airline, in particular, is particularly humane to humans at that airport, either.