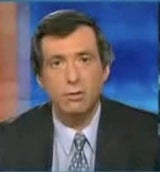 Among the news organizations she telephoned, she said, were The Baltimore Sun and Newsweek (which is owned by The Washington Post Company), which both published articles. She also contacted this reporter and identified herself, in part, as "Howard Kurtz's wife."




'

It's tough to work as a press scold, as Kurtz must, when your wife is trampling press ethics so blatantly, trying to leverage her access to you to advance her own financial interests. This transgression alone, however, would not be enough to crucify Kurtz, given that it is the work of a family member and not the columnist himself. Throw in Kurtz's own bad judgement on CNN, however, and the media pontificator looks seriously wounded.
But, hey, if he loses the CNN and Post gigs, there's always blogging, right?